This weekend I'm linking up with Ashley and Neely for Sunday Social - the questions were interesting and different!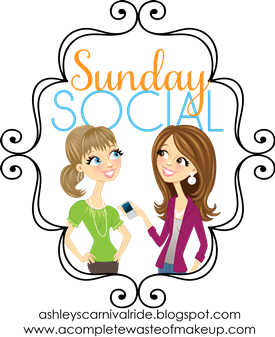 1. When you were little what did you want to be when you grew up? I'm pretty sure I went through cowgirl, ballerina, actress, news anchor, and interior decorator phases, but I always played school and wanted to be a teacher. I'm lucky to be living my dream. I've also wanted to see my name on the cover of a book since my third grade teacher stamped the words "FUTURE AUTHOR" in my journal. I'll get there someday!
2. What was your favorite way to kill time as a kid? Reading, playing school, playing Barbies (I had about 70), and playing outside. When we got AOL in 7th grade the Internet gradually started its takeover of my life ;)
3. When did you get your first cell phone? When I got my driver's license. I still think that's a totally okay policy for parents and my students are scandalized when I tell them I think they're too young to handle having their own phones!
4. What is your favorite magazine to read? I'm going to be a big nerd and admit that it's NEA Today, the magazine of my professional organization - it is FULL of great tips that I use in the classroom and I also learn about advocating for myself, my colleagues, and my students. I like Rolling Stone - I love music but I've also learned a lot over the years from the news and politics articles. I'm also a big fan of fitness magazines like Shape.
5. What is the one random object people would be surprised to find in your purse? Glucose tablets. Until I get my blood sugar in control, they are really nice to have when I get stuck in a situation where I can't eat, but every time I look at them I hear Wilford Brimley in my head saying, "diabeetus."