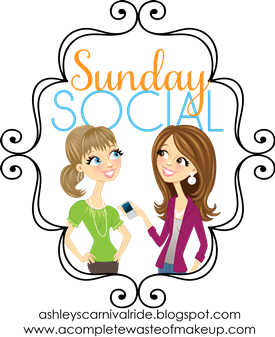 Neely and Ashley came up with some great Sunday Social questions this week, and it's the one year anniversary of the link-up, so they're hosting a sweet giveaway - head on over there if you're interested in winning a
$120 design package from Jenn at Munchkinland Designs,
$25 to Sephora, a
monogrammed Tervis tumbler, and a
$35 Hazel and Olive boutique gift card!
1. What is your favorite Social Media outlet?
Instagram - I have gotten terrible about keeping an actual daily diary, so I love having an instant way to document my life, and seeing everyone else's fun pictures always makes me want to get out and do something noteworthy.
2. Do you subscribe to any daily news reads? If so which ones?
I'm still not sure what this questions means... so I guess I don't. I used to read check The Atlantic every morning when I had a homeroom class and got to sit still for a few minutes, but now that I have hall duty there is no time! I listen to the end of the local television newscast and the beginning of CBS This Morning while eating breakfast and tune into NPR during my drive up the hill to work so that I don't miss any major breaking stories.
3. Favorite Magazine to have by the pool?
Rolling Stone and Shape are my current favorites, but I will never pass up a People or Better Homes and Gardens.
4. Favorite summertime song?
Creedence Clearwater Revival and Lynyrd Skynyrd songs always remind me of summer because that's what my family played at cookouts when I was growing up. Collective Soul's song "December" reminds me of childhood trips to Myrtle Beach because that's where I heard it first (it was the Billboard #1 song in the summer of 1995 - thanks, Wikipedia). "Ocean Avenue" by Yellowcard and "Time of Your Life" by Green Day also mean summer to me because I associate them with my years working at 4-H camp - "Ocean Avenue" at the top of our lungs getting pumped for Monday, and "Time of Your Life" with an acoustic guitar at Thursday night closing campfire.
5. Best Summer concert you've been to?
I really fell in love with Jimmy Wayne's music when Breeze and I went to see him at Festival in the Park a few years ago. He has a really inspiring story (he grew up in foster homes and works to raise awareness about the problems facing kids who age out of the system). Since we saw him he's toured with Brad Paisley and Dierks Bentley. I would love to see him really make it big in Nashville.