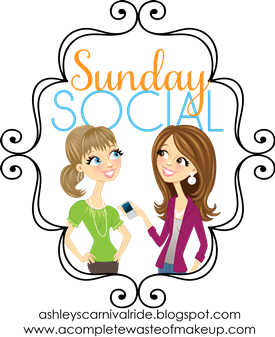 I couldn't resist this week's Sunday Social because all of the
questions revolve around my favorite number - 5!
1. 5 songs you'll listen to the rest of your life:
Most of my favorite songs are already classics - songs like the Beatles' "Hey Jude," Eric Clapton's "Layla," and Paul McCartney's "Maybe I'm Amazed," I will never get tired of.
I think that out of all of the singers I love right now Adele is the one whose music will have the most longevity. I think I'll still be singing "Rolling In the Deep" in the car when I'm fifty. And I'll always love our wedding song, Ray LaMontagne's "You Are the Best Thing."
2. 5 things on your bucket list:
Own a house with Mr. Q

Write a novel

See Paul McCartney in concert

Visit London

Visit Paris
3. 5 celebs you'd love to hang out with for a day:
Liiiiizzzz Lemmmmmon on my former stomping grounds. (
Tumblr
)
Tina Fey (go Wahoos!)

Queen Bey, a.k.a. Beyonce

Miranda Lambert

Mindy Kaling

Neil Gaiman
4. 5 things you always carry in your purse:
Cell phone (my wallpaper is the Elizabeth Mayville Etsy print I am currently coveting!)

Lip balm/gloss (I love Neutrogena products - just enough color)

Hairbrush

Tide to Go pen

My wallet (driver's license, debit card, insurance, and library card at all times!)
5. 5 books on your reading list:
Between Shades of Gray by Ruta Sepetys (YA Historical Fiction)
The Absolutely True Diary of a Part-Time Indian by Sherman Alexie (YA Fiction)
The Fault in Our Stars by John Green (YA Fiction)
Wild by Cheryl Strayed (Memoir)
Wonder by R.J Palacio (MG Fiction)